For the first time in more than a decade, Vital Signs' video "The Boys And Girls Are Doing It" has been made available to the public.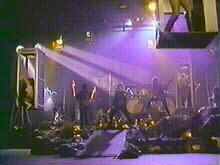 The video, produced to promote the soundtrack album and movie "Bill & Ted's Excellent Adventure", has been posted for download at Melodicrock.tv. Vital Signs decided to make the Bill & Ted's clip available to the public in response to many emails from fans who fondly remember the classic rock video.

The video was filmed at Hollywood's historic Chaplin Soundstage, located on the lot at A&M Records. During the all-day session for "The Boys And Girls Are Doing It", members of U2 and Survivor dropped by the set to congratulate Vital Signs and watch the host of beautiful exotic dancers who appear in the video. Lead guitarist Jimmy Z fondly recalls the shoot. "The girls in the flying phone booths were quite a distraction," he said. "I kept forgetting to play my guitar everytime the girls flew overhead in the phone booths!"

The Boys And Girls Are Doing It was introduced to the world in 1989 by actor/comedian George Carlin on NBC TV's "Friday Night Videos".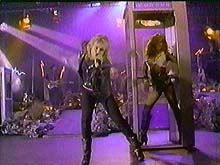 It was the first and only video by an unsigned band to ever air on the show. The following day, MTV debuted the video, which played in heavy rotation for a number of weeks. In the following months, it aired on video channels around the world, reaching the #7 spot in Japan's video Top 10.

Many journalists and fans have wondered why "The Boys And Girls.." was not included on Vital Signs' album which was released in late January by AOR Heaven. Sadly, it all came down to budget. The Bill & Ted's soundtrack album is still selling quite well around the world and, as a result, the licensing fee to use the track would be extremely costly. The band hopes to be able to include the song on an upcoming album, budget permitting. The members of Vital Signs are currently writing new songs and reviewing some of their more than 2 dozen previously unrecorded songs for inclusion on the next album.

Download the video at:
Melodicrock.tv

See/capture screen shots from the video:
on the Vital Signs Photo Page


For more info on Vital Signs, contact:

Vital Signs Productions
vitalsigns@stagedude.com
Click here and return to Main Menu