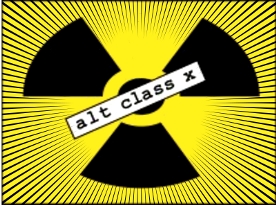 Copyright © 2009-Scoop Sweeney


---
The radio business is a cruel and shallow money trench,
a long plastic hallway where thieves and pimps run free and good men die like dogs.

There's also a negative side.


--Hunter S. Thompson
---
Some music lovers talk about "back in the day...", meaning "back when music didn't suck!" We feel their pain but realize that "back in the day" is a very subjective term. It could mean (especially today) several months back, several years back and so on. For alt class x, "back in the day" begins in the late 1960's, with bands like The Velvet Underground, Iggy & The Stooges and a bunch of lesser known bands, variously described today as "Pre-Punk". alt class x plays these songs and many more, covering a time period from (roughly) the mid-60s through the mid-80s. Some of the songs you will hear may evade the labels of punk or new wave, since music during the 60s, 70s and 80s was headed in many different directions. The one thing they all have in common: these songs and bands influenced much of what you hear today.

You will be disappointed if you expect to hear a lot of "cool" club-style mixes. This is about the music, not my slick mixing skills. I have always found the "mix" concept, outside of the club environment, to be just a bit pretentious. Let the musicians speak/play for themselves. If they had intended the songs to sound like these overblown mixes, they would have written them that way.

You may approach what you hear on alt class x as a serious study of music history. If you pay attention to the development of the music from The Velvet Underground, Stooges, Patti Smith era through the English Punk movement into the 80's so-called New Wave bands, you may gain some insight into the music you hear today. Or you can just turn up the volume to 11 and enjoy the music.




WARNING! TURN OFF YOUR POPUP BLOCKER OR THE PLAYER WON'T PLAY!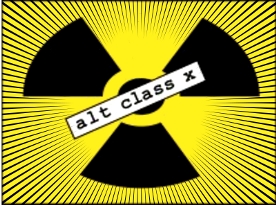 Listen on Live365


Listening requires registration with Live365, our streaming audio provider. There is no cost to register and Live365 is very good about protecting the privacy of their subscribers. Once you sign up to be a member, you'll be able to: Save your favorite Stations in your Presets Customize your Station Directory listings Receive weekly updates including Editor's Station Picks Participate in the Live365 community Live365 will never share your email address or personal information with anyone. Live365 Privacy Policy

---

Should you decide this Internet Radio thing is something you would like to hear on a regular basis, you may want to sign up for Live365's "Preferred" membership. What this buys you is NO pop-up ads, NO interruptions by commercial messages and the opportunity to support this station (we get a cut of the action, so to speak!).
---
alt class x is a truly LIVE broadcast (unlike most), thanks to the fine people at


---

Web Design by Scoop Sweeney Productions
Contact the little weasel